Technology & Innovations
Stimulating the Power of Diversity
Secrets of Success of the MAB Discovery Platform:
Wild-type rabbits create very potent antibodies with pM affinities already in an early phase of the immune response.
Affinity maturation is not required to isolate potent molecules.
Activity screens are possible in B-cell supernatants, including screening for Fc function and cell binding assays.
Each rabbit is unique and will create novel antibodies.
Very low sequence redundancy within one animal (< 10%).
The large number of obtainable leads enables direct humanization and selection for CMC related quality criteria which results in a minimal modality risk for development.
In silico analysis of manufacturability as an intrinsic part of lead selection after humanization.
Transient recombinant expression selects for well producible molecules.
Selected fully humanized MABD antibodies have good drug-like characteristics.
Immunization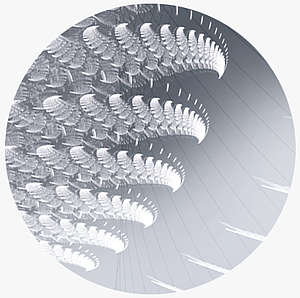 MAB Discovery delivers high quality, functional monoclonal antibodies via sophisticated, high-throughput selection of B cells generated by immunization. The immunogen can be a full-length recombinant or partially purified protein preparation, as well as whole cells, DNA or peptide conjugates. The MAB Discovery approach always delivers a vast number of high quality candidates with regard to potency and epitope coverage.
MAB Discovery employs a proprietary immunization schedule, enabling a focused and highly successful strategy for each and every individual antigen target. This schedule allows early prediction of project success.
The use of wild type rabbits for the immunization and functional B-cell cloning strategy of MAB Discovery suits not only classical target proteins and receptors, but also to a wide variety of more challenging immunogens, e.g. GPCRs, ion channels, carbohydrates, and small sized epitopes.
Many immunogens possible (Protein, cells, DNA,…)
Proprietary immunization schedule
Immunogen dependent immunization schedule
Different bleeds can be analyzed
Prediction of success at an early time point possible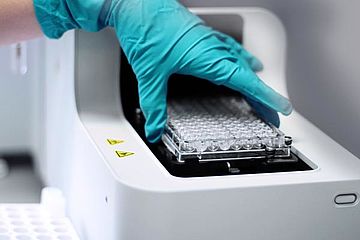 B Cell Cloning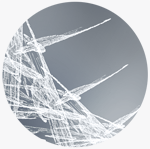 According to the targeted immunization and sampling schedule, peripheral blood lymphocytes are prepared. B-cells are cloned by fluorescence activated cell sorting (FACS) and deposited as single cells into proprietary growth medium. The cloning is fully automated and thousands of B cell clones can be sorted, which leads to a much higher hit rate compared to conventional hybridoma technology, other B-cell cloning methods or phage-library generation from immunized animals. This guarantees that most, if not all of the possible target epitopes can be accessed. During cultivation, these monoclonal B-cells secrete the monoclonal antibody into the supernatant. As natural diversity of light and heavy chain combination is not influenced by the MAB Discovery process, resulting monoclonal antibodies already exhibit high stability and affinity from the start. Therefore, costly, cumbersome and time-consuming affinity maturation steps are not required.
Key Points B Cell Cloning
Isolation of thousands of B cells ensures superior hit rate
Proprietary sampling, cloning and B-cell cultivation process ensures best in class and unique epitope coverage
Natural selection of light and heavy chain combination is retained; resulting in high specificity, stability and affinity
Automated, reliable and fast process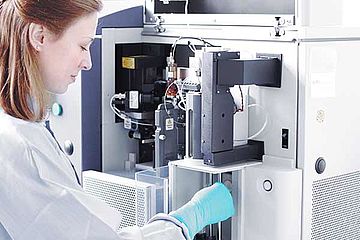 High-Throughput Screening

Cultivated B-cell clone supernatants contain sufficient quantities of monoclonal antibody to enable several screening assays to be run in parallel at an early stage. Whenever possible, cell-based functional assays are included. As monoclonal selection by binding alone is generally not sufficient to predict function as well as therapeutic efficiency, the inclusion of cell-based activity assays at this stage is key to the identification of therapeutic antibody candidates. B-cell clones with interesting activity are then picked and processed.
Where screening assays are not already in place, or not yet described in the literature MAB Discovery develops, wherever possible, customized assays and candidate selection strategies to ensure the most efficient and successful project delivery. If required, Fc mediated functions can also be tested.
Key points High-Throughput Screening:
Integration of functional assays at screening stage is the key to success
Ability to perform multiple assays from B cell clone supernatant greatly increases effectiveness of screening strategy
Screening for Fc mediated function possible due to 100% interaction with human Fc mediated receptor assays
Ability to set up assays from scratch or adapt established assays to our high-throughput platform
High throughput screening platforms ensures we discover the "rare event" so no blockbuster clones are ever left behind!
Integration of functional assays at screening stage is the key to success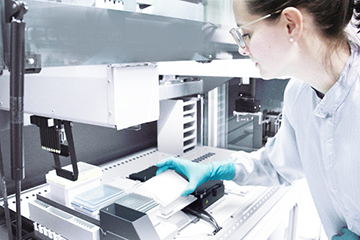 Sequence Analysis and Humanization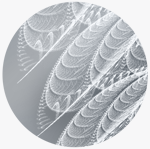 B-cells and supernatants are separated after B cell cultivation. B-cell clones with interesting activity in the supernatant are processed, and the sequences of light and heavy chain variable regions are determined. This is followed by direct humanization of all antibodies or creation of a chimeric rabbit-human sequence. The codon-optimized sequence for mammalian expression as well as expression plasmids are synthesized accordingly.
Superior humanization protocols

To further leverage the MAB Discovery platform, we have partnered with a global leader in antibody humanization technologies, Fusion Antibodies, Belfast, UK, (www.fusionantibodies.com/).
This partnership enables clients to not only generate best in class, functional antibodies, but fully humanize them from the outset, saving months in project development.
Key points Sequencing and Humanization:
Antibody humanization is seamlessly built in to the platform shaving months of a project timeline
Sequencing of all the antibody hits light and heavy chain variable regions is possible ensuring complete security for downstream assessment
Sequence analysis including diversity assessment and screening for potential CMC liabilities helps inform lead candidate selection strategy
Different humanization workflows – classical and fast track- tailored to optimize the workflow.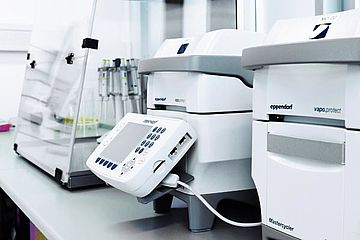 Recombinant Expression

Recombinant expression of humanized or chimeric antibodies is part of the general discovery work-flow. During this process different formats of the constant domain can be selected depending on the intended application, including the selection of different natural or engineered Fc variants. The automated process is applied to up to several hundred recombinant humanized hits. HEK293 cells are transfected in an automated way; therefore, several hundred antibodies could be expressed at the same time. Following cultivation, the recombinant antibodies are purified from the cell supernatants. After purification, concentrations of the antibody containing eluates are determined and normalized to facilitate confirmation testing. Assay data of the primary screen are confirmed with the recombinantly produced antibodies. The confirmation yield from B-cell supernatant to recombinant hits is very high (80 to 90%). In addition, if required, larger amounts of selected candidate antibodies can be produced.
Key points recombinant expression:
Humanized or chimeric antibodies can be generated
Different isotypes and engineered Fc variants of immunoglobulins from different species available
Sufficient levels of protein readily available via scaled up expression ensuring there is no limit to downstream testing/screening
Identification of naturally high affinity antibodies means no affinity maturation is required saving significant time and cost
Recombinantly expressed monoclonals with an array of affinities and range of epitopes provides options for lead selection depending on predefined target product profiles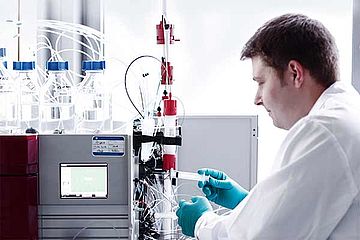 Project management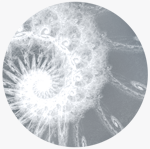 Professional project management by a team of highly experienced pharma and biotechnology experts is a cornerstone of the MAB Discovery collaboration offering. Indeed, MAB Discovery sees itself as an extension of a client's internal drug discovery and R&D group; not as an independent contractor. Prior to project initiation, a project manager is assigned who coordinates all communication with the partner, including critical pre-project discussions around the establishment of the integrated functional screening assays.
Key points project management:
Highly experienced project managers, including large pharma industry project experts
Customized project workflow and timing
Regular updates on deliverables and milestones
Reliable on-time communication
LIMS system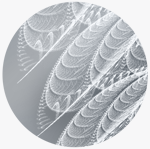 MAB Discovery employs a highly efficient, fully automated, high throughput platform from immunization to recombinantly expressed leads. All steps are embedded into a barcode guided data system, enabling retracing of all recombinantly produced antibodies back to its original B-cell clone. The high level of automation and full traceability allows the processing of hundreds of hits with high speed and efficiency. All data are stored in the MAB Discovery LIMS system. This proprietary data base ensures tracking and documentation, and is also integral part of the company's risk management system.
Cost efficient, automated platform for antibody generation enables levels of novel antibody discovery unsurpassed by manual methods
Full barcode tracking of the discovery and selection process ensuring full traceability and risk management
Data protection and documentation which comply with the most stringent pharma QA & RA requirements
LIMS controlled automation drives cost efficiency and speed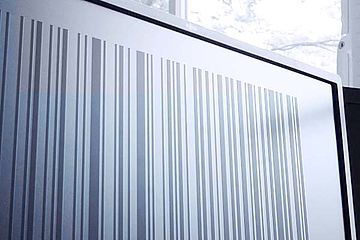 Working with us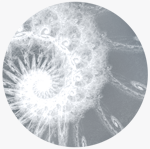 MAB Discovery enables its collaboration partners to discover, isolate and characterize monoclonals of unprecedented quality in terms of potency, functionality and epitope coverage. Based on individual client consulting, customized study design, target selection, and immunization strategy, the robust MAB Discovery process recognizes all relevant aspects for fast and successful delivery of sets of fully functional monoclonal antibodies, even for very challenging antigens.

MAB Discovery provides a superior route from immunization to delivery of well-characterized candidate expressing cell lines. The technology has been successfully employed for big pharma customers, and allows for discovery of antagonists, agonists as well as development of novel anti-infective approaches and strategies.

MAB Discovery successfully shares its outstanding experience and leading technology position with its partners, and follows a flexible cooperation business model including a technology access fee, research funding, milestone payments, royalty components as well as flexible working packages based on FTE rate.